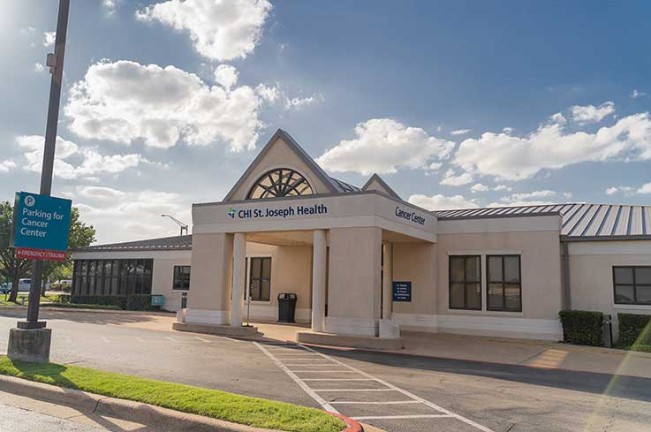 Cancer Care in Bryan, TX | St. Joseph Health
/content/dam/stjoseph-stlukeshealth/images/location-header/a7303363.jpg
Address
2215 E Villa Maria Rd
Bryan, TX 77802
Compassionate Oncology Services in Bryan, Texas
Accredited by the American College of Surgeons, the St. Joseph Health Cancer Center was designed to treat cancer while allowing our patients to live as normally as possible during their treatment.
Our cancer physicians have trained at some of the nation's most renowned medical centers, and we have the only fellowship-trained radiation oncologist in the Brazos Valley. Our oncology nurses, other cancer specialists and support team are dedicated to helping you and your loved ones work through treatment and recovery in the best way possible and with a multidisciplinary treatment plan designed just for you.
Advanced diagnostics for early detection.
St. Joseph Health Cancer Center is equipped with the latest diagnostic tools to help detect tumors in their earliest stages. Our processes include a promise to turn around breast biopsy results to patients within 24-48 hours.
Pioneering clinical research trials and protocols.
St. Joseph Health Cancer Center participates in research studies and clinical trials, and has a continuous flow of studies and trials available to our patients. In fact, we're always actively seeking patients to take part in trials, administer a treatment or drug being studied, and provide a comprehensive follow up after the trial has concluded.
Cancers Our Oncologists and Radiologists Treat:
Colon Cancer
Lymphnode Cancer
Pancreatic Cancer
Skin Cancer
Ovarian Cancer
Liver Cancer
Stomach Cancer
Bladder Cancer
Throat Cancer
Bone Cancer
Mouth cancer
Brain cancer
Kidney Cancer
Blood Cancer
Find a Doctor
---
Looking for a doctor? Perform a quick search by name or browse by specialty.