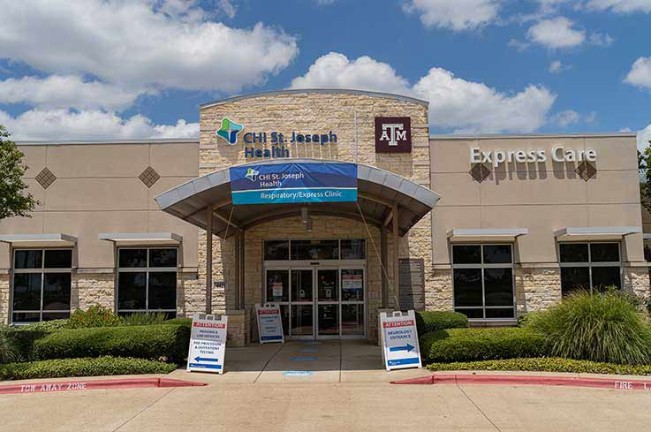 Walk-in Lab - CHI St. Joseph Health Express Care - College Station, TX | CHI St. Joseph Health
/content/dam/stjoseph-stlukeshealth/images/location-header/a7303126.jpg
Address
4421 State Highway 6 South
College Station, Texas 77082
*Attention: If you are displaying COVID-19 symptoms or do not want to risk exposure, please call us to set up an appointment at 979-776-2400. We are not able to collect COVID-19 tests at our lab locations. Those are only collected at our Respiratory Clinic and hospitals.​
We know your time and health are valuable, so our convenient laboratory services are available to meet your health needs more efficiently — and close to home in Madisonville. For busy schedules, we offer flexible hours, quick turnaround times on test results, and an experienced, friendly staff. In addition, self-referral tests, without physician orders, are available.
Comprehensive Lab Testing We Offer
Blood Bank
Chemistry
Coagulation
Hematology
Microbiology
Mycology
Parasitology
Serology
Special Chemistry
Fast, Convenient Lab Results 365 Days Per Year
We perform thousands of procedures annually, and produce fast, accurate lab test results for our patients. St. Joseph Health Diagnostic Laboratory Services is never closed, offering access to our lab testing facilities 365 days per year. When you're counting on fast, accurate lab test results, you can count on St. Joseph Health.
Convenient Locations Throughout the Brazos Valley
If you'd like to visit us at another one of our locations in the Brazos Valley, view our laboratory locations list to see addresses for laboratory draw locations, hospital labs, and walk-in labs. For self-referral tests that do not require a physician's order, refer to our Self Referral Price Guide to monitor your health around your schedule.
Get fast results. Call us at 936-349-1574 to schedule an appointment and for more information about pricing and tests.
Details on Laboratory and Specimen Requirements
Find a Doctor
---
Looking for a doctor? Perform a quick search by name or browse by specialty.