5 Lent Recipes You'll Want To Eat All Year
Lent is a time of repentance, fasting, and growing closer to God. To practice self-discipline, the Catholic Church instructs Christians to abstain from meat — traditionally seen as a luxury — on Ash Wednesday and every Friday throughout the liturgical season.
As we observe these instructions, it can be easy to default to fried fish, cheese pizzas, and heavy pasta. But there are many pescetarian and vegetarian dishes that are both healthy and filling.
Visit our Lenten calendar daily to reveal a prayer and penance to help strengthen your faith, and try out our five favorite meatless recipes:
Mediterranean Salmon and Chickpea Salad
Spicy Shrimp Tacos
Baked Lemon Parsley Cod
Hearty Minestrone Soup
Asian Chopped Salad With Ginger Lime Dressing Recipe
Mediterranean Salmon and Chickpea Salad Recipe
Serves 2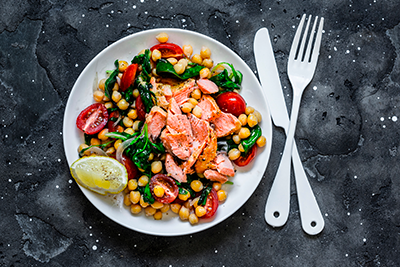 For the salad:
4 cups spinach (optional: sauté with a drizzle of olive oil and greek spices until wilted)
1 can of pink salmon (5 oz), drained
1 can of chickpeas (15 oz), drained and rinsed
1/2 cup cherry tomatoes, cut in half
1/2 red onion, chopped
1/2 cup chopped celery
Black pepper to taste
For the dressing:
1/4 cup extra virgin olive oil
1 lemon, juiced
1 tablespoon red wine vinegar
1/2 teaspoon Dijon mustard
1 teaspoon oregano
1 teaspoon garlic powder
Pinch of salt
Add salad ingredients into a bowl. Mix together the dressing ingredients in a separate cup or bowl and pour over the Mediterranean salad. Enjoy!
Spicy Shrimp Tacos Recipe
Makes 10 tacos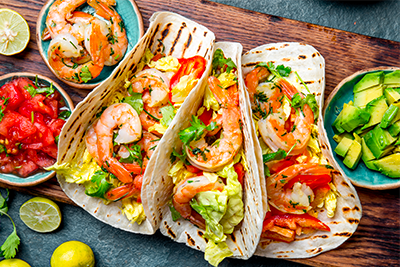 Ingredients:
1 lb large shrimp, peeled and deveined
2 tablespoons olive oil
10 corn tortillas
1/2 head of iceberg lettuce, chopped
2 avocados, pitted and sliced
2 tomatoes, chopped
2 limes, cut into wedges
1/3 cup fresh cilantro
For the spice blend:
1 tablespoon chili powder
1 teaspoon cumin
1 teaspoon garlic powder
1 teaspoon paprika
1/2 teaspoon oregano
1/2 teaspoon onion powder
1/4 teaspoon red pepper flakes
1/4 teaspoon ground black pepper
Pinch of salt
Mix together the spice blend in a cup or small bowl. Put the shrimp in a large bowl, sprinkle in the spice blend, and coat the shrimp evenly. Heat the olive oil in a large sauté pan on the stove over medium-high heat. Add the shrimp to the pan and cook while stirring for 3-4 minutes, flipping once, until they are opaque. Lay out your corn tortillas on serving plates. Scoop the shrimp into each taco and top with lettuce, sliced avocado, tomatoes, lime juice, and cilantro.
Baked Lemon Parsley Cod Recipe
Serves 4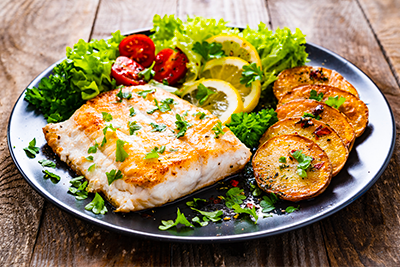 Ingredients:
4 cod fillets
3 tablespoons fresh parsley, chopped
2 tablespoons lemon juice
1 tablespoon olive oil
2 cloves of garlic, minced
1/4 teaspoon ground black pepper
Pinch of salt
1/4 cup green onions, chopped
Preheat your oven to 400 degrees. Add parsley, lemon juice, lemon zest, olive oil, garlic, salt, and pepper to a bowl and mix together. Place the cod fillets in an ungreased 11x7 baking dish. Pour the lemon parsley mixture onto the fillets. Cover the dish with foil and bake for 10-15 minutes until the cod easily pulls apart with a fork. Place the fillets onto serving plates and sprinkle each with green onions. Serve with a side of steamed or roasted veggies.
Hearty Minestrone Soup Recipe
Serves 6-8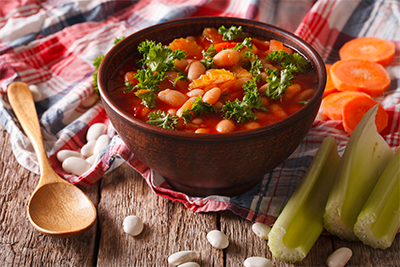 Ingredients:
2 large carrots, diced
2 celery stalks, chopped
2 Yukon Gold potatoes, diced
1 medium onion, chopped
2 tablespoons olive oil
2 cloves of garlic, minced
1 container (32 oz) low-sodium vegetable broth
2 cans (8 oz each) tomato sauce (no salt added)
1 can (15.5 oz) cannellini beans (no salt added), rinsed and drained
1 can (14.5 oz) green beans (no salt added), drained
1 can (14.5 oz) diced tomatoes (no salt added), undrained
2 cups fresh kale
1 tablespoon dried basil
2 teaspoons dried parsley flakes
1 teaspoon oregano
1/2 teaspoon ground black pepper
1 cup uncooked whole wheat macaroni or ditalini pasta
Grated parmesan cheese
In a large pot, saute the carrots, celery potatoes, and onion in olive oil for 3-4 minutes over medium-high heat until the onions soften. Add in the minced garlic and cook for 1 minute longer. Stir in the vegetable broth, tomato sauce, cannellini beans, tomatoes, kale, basil, parsley, oregano, and black pepper. Bring to a boil before reducing heat to medium-low. Cover the pot, and let it simmer for 15 minutes. Add in the noodles and cook uncovered for 5-7 minutes until the pasta is al dente. Serve in bowls and sprinkle with parmesan cheese if desired.
Asian Chopped Salad With Ginger Lime Dressing Recipe
Serves 2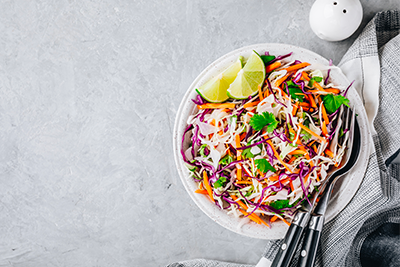 For the salad:
1 cup chopped romaine hearts
1 cup thinly sliced purple cabbage
1 cup thinly sliced green cabbage
1 thinly slice red bell pepper
1 cup bean sprouts
1 cup snap peas
1 large carrot, shredded
2 green onions, chopped
1/4 cup sliced almonds
For the dressing:
2 tablespoons sesame oil
2 tablespoons rice vinegar
1 tablespoon honey
1 tablespoon lime juice
1 teaspoon ginger powder
Pinch of salt
Ground black pepper to taste
Mix all salad ingredients in a large bowl. In a small cup or bowl, stir together all ingredients for the dressing. Pour the dressing over the salad, toss until the dressing evenly coats the salad, and serve.
Pin these Lent recipes for later!
Find a Doctor
---
Looking for a doctor? Perform a quick search by name or browse by specialty.