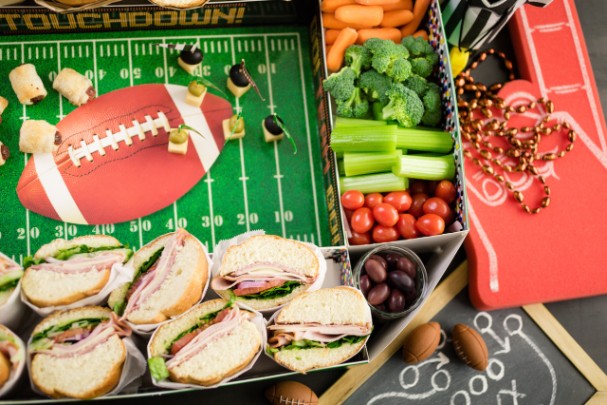 Diet-Friendly Menu Ideas for the Big Game
Hosting a party for the big game can be stressful, especially when the traditional snacks served at these events are a penalty for any diet. Take a timeout from all that anxiety and follow these cooking tips to kickoff an amazing watch party.
Minimize the calories while maximizing the health benefits.
By serving veggies rather than cheeses, you can cut a ton of unwanted calories. Include vegetables like celery, which has a high water content and is great for your skin. Rather than going with a ranch dip, try something healthier, like a low-fat yogurt dip or hummus.
Prepare individual servings.
Portioning snacks not only helps with portion control, it also helps reduce the spread of germs! Try making convenient and easy hummus and veggie cups; it's easier to follow a serving size when you don't have the entire container of dip sitting in front of you. Slice carrots, celery, and other veggies into spears and place them in a small plastic cup vertically with a single serving of hummus at the bottom. Yum!

Have a tasty alternative to alcoholic beverages.
Not only are alcoholic beverages high in calories, they're also harmful to your body when consumed excessively. Consider serving a beverage that doesn't contain any alcohol but is still appealing to people, like a fruit punch made with freshly squeezed juices.
Practice safe and healthy food preparation.
Remember to wash your hands thoroughly and often. The surfaces on which you prepare your food are also prone to harbor unwanted germs, so wash the cutting boards and other surfaces frequently to avoid cross-contamination. Be sure to cook foods to proper temperatures and refrigerate promptly after preparation.
Use your doctor as a resource.
Your primary care physician has a wealth of knowledge about what a healthy diet should look like, so be sure to consult with them if you need some extra help. They can even use your health history to tailor a diet plan just for you! Talk to your doctor about the foods you should be incorporating into your diet, and find fun snacks you can use them in to serve at the party.
If you've been looking to lead a healthier life, schedule an appointment with your St. Joseph Health primary care physician to learn about steps you can take to start your journey. We hope you enjoy the game!
Sources:
CDC - How to Use Fruits and Vegetables to Help Manage Your Weight
CDC - Holiday Food Safety Twitter Chat
CDC - Fact Sheets - Binge Drinking
Find a Doctor
---
Looking for a doctor? Perform a quick search by name or browse by specialty.