How to Care for a Loved One With COVID-19
Because the situation surrounding COVID-19 is constantly evolving, some information may not be up to date. Stay informed by following information from your local officials and by visiting the CDC website.
If a loved one tests positive for COVID-19, you might be wondering what to do next and how to maintain your health. We have gathered 10 essential tips to help you stay safe while caring for others.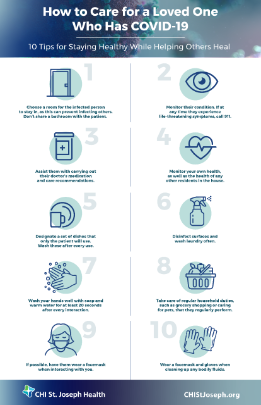 If you begin to notice symptoms, you should self-isolate as well. People with COVID-19 can stop self-isolating when they meet all three of the following conditions:
They have spoken to their primary care physician and gotten the go-ahead to stop self-isolating.
Their symptoms of COVID-19 improved (cough, shortness of breath).
At least seven days have passed since they first noticed symptoms.
Find a Doctor
---
Looking for a doctor? Perform a quick search by name or browse by specialty.