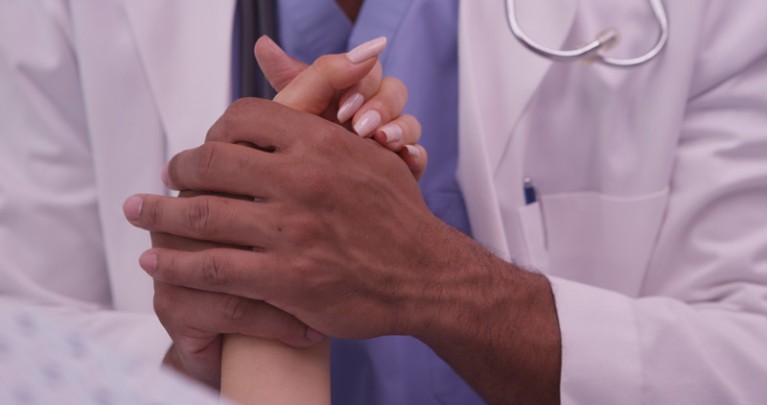 Introducing Dr. Darryl Peterson, Board-Certified Hand Surgeon
We often take our hands for granted, but we depend on them for so many tasks. When simple tasks like gripping objects or simply moving our hands or wrists cause us pain or we experience limited range of motion, tingling or weakness, our quality of life suffers.
""Like our eyes, mouth and feet, our hands are part of how we sense things," said Dr. Darryl Peterson, Board-Certified Hand Surgeon for St. Joseph Health. "Often when we're caring for the hands, we aren't simply treating an injury. We're also taking care of how a patient's life is being affected by their injury or condition."
Working closely with our team of Orthopedic specialists and hand therapists, Dr. Peterson is dedicated to restoring function and quality of life for our patients, providing comprehensive care to help them maintain strong, healthy hands, wrists and arms.
All Patients Deserve Equal Care
Dr. Peterson was first introduced to medicine at the age of eight, when he helped his great-grandmother deliver a baby on a neighboring farm, near his home in Hammond, Louisiana.
"Where we lived, the doctors couldn't always come," said Dr. Peterson. "Neighbors helped each other."
This experience reinforced the philosophy of care Dr. Peterson continues to embrace in his Hand Surgery practice today: all patients deserve equal care, regardless of their ability to pay. It also played a role in his decision to become part of St. Joseph Health, a healthcare ministry dedicated to serving poor and vulnerable populations throughout the Brazos Valley.
Specializing in Hand Care
Today Dr. Peterson provides a wide range of services and care to patients, dividing his time between the St. Joseph Health Regional Hospital Operating Room and Orthopedics Associates, where he provides individualized care, treating hand injuries, conditions and deformities.
Dr. Peterson holds a Doctorate in Medicine from Hahnemann University School of Medicine in Philadelphia, Pennsylvania and a Bachelor of Science degree in Chemistry from the United States Military Academy at West Point. He completed his Hand Fellowship at the Christine Kleinert Institute in Louisville, Kentucky.
Ask Dr. Peterson
Here we asked Dr. Peterson your questions about hand care, common hand conditions and the difference patients experience in a comprehensive Hand Clinic.
Q: What are some of the common hand conditions you see, and how can patients recognize the symptoms?
A: Arthritis and Carpal Tunnel are common. Arthritis, which is caused by joint wear, tear and inflammation, generally affects females more than males – four or five to one.
Patients with Arthritis can expect to experience pain and decreased motion and function. They may even experience some weakness without decreased motion.
Carpal Tunnel, defined as inflammation, can cause numbness in the hands and fingers. We see it mostly in middle aged patients, and it's generally related to cumulative activity or acute injury. We see almost an equal male to female distribution.
With Carpal Tunnel, we usually see numbness, tingling or burning. After that, we may see loss of function, weakness or dropping of items.
Q: If patients are experiencing symptoms of Arthritis or Carpal Tunnel, when should they seek medical care?
A: With both of these problems, you want to seek medical attention if it's been going on for more than two to four weeks without improvement. Consider going to the doctor sooner if you no longer have the functional ability to work or sustain yourself.
Q: How are these hand conditions treated?
A: With Arthritis, like with any other medical condition, the earlier you're evaluated, the more options you have. Often, we can do an injection, therapy, and medication in some combination – all of which can be very effective in treating Arthritis in the hand before you lose cartilage. Once the cartilage is gone, medications and injections don't work as well, and you may need joint replacement surgery.
For Rheumatoid Arthritis, the medication has come a long way in the last 10 to 15 years. If we can treat it early, there's a chance the patient may never need surgery.
With Carpal Tunnel, we may treat with a combination of medications, therapy, bracing and injections. We will look at whether there's a reason for the Carpal Tunnel, besides compression of the nerve. For example, Diabetes, Thyroid disease, and Gout can all contribute to nerve problems, as well. And, sometimes nerve problems can begin in areas other than the wrist, such as the neck.
Q. How is the care available at St. Joseph Health Hand Clinic different?
A: One of the three most common operations performed in the Medicare age group is surgery for Carpal Tunnel. This surgery is performed by Hand Surgeons, General Surgeons, Plastic Surgeons, Orthopedic Surgeons, and Neurosurgeons. We are all trained in it.
However, when you're looking at hand conditions, injuries and conditions across the board, Hand Surgeons are capable of caring for simple, easy cases as well as more complex cases. We're also trained to spot and address other contributors to hand and wrist conditions and pain.
Hand Surgeons keep up with all the latest techniques. We can now do surgery for Carpal Tunnel with as little as a one-inch incision and sometimes through a scope.
Additionally, the Hand Clinic offers access to Hand Therapy. Hand Surgeons and Hand Therapists are like the quarterback and running back: to score a touchdown, they work together. Injuries in the hand can become stiff right away. Therapy supports a positive outcome for the patient.
Find a Doctor
---
Looking for a doctor? Perform a quick search by name or browse by specialty.