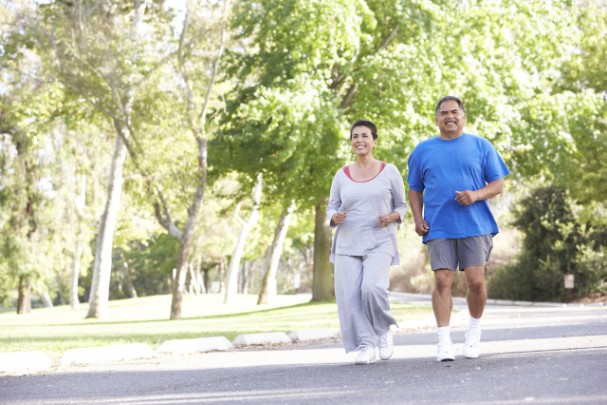 Is It More Difficult For Women To Lose Weight?
It's a common theory that men are able to lose weight more easily than women can. Discover the different factors that play a role in weight loss among men and women and how you can take your health into your own hands.
The Difference
Men have a larger percentage of muscle mass than women due to higher levels of testosterone, which already puts them at an advantage when it comes to getting fit because muscle is able to burn more calories than fat can. Women carry between 6 and 11 percent more body fat than men do at a healthy weight. Just because a woman's body fat percentage is higher than a man's does not necessarily mean she is less fit.
Men generally carry excess fat in the stomach area, making it more noticeable when they start losing weight since mainly their waists are affected. Women typically have excess fat spread out in more areas, especially near their hips and lower stomach, preventing a more dramatic visual change.
That's why when men begin a new diet or exercise program, they lose weight quicker than women do. But while men typically lose more weight at first, the amount of weight lost in each gender generally levels out after about six months.
Our Solution
The HMR Program is specifically designed to help you lose weight quickly – and keep it off. It focuses on three critical pillars to aid in weight loss:
Eat lower-calorie, higher-volume foods.
Eat more fruits and veggies.
Increase physical activity.
While losing weight can be a difficult journey, you don't have to do it alone. Our team supervises, coaches and supports each member of the program to provide healthy results. Recognized as the "Best Fast Weight-Loss Diet" by U.S. News & World Report, the HMR Program is a great way to start achieving better health.
Get an idea of recipes that are HMR-approved on our Pinterest board! Call 979.690.4473 or email us at [email protected] to take advantage of this comprehensive weight-loss program. Find more program details here.
Sources:
St. Joseph Health - Non-Surgical Weight Loss
WebMD - Do Men Lose Weight Faster Than Women?
WebMD - Weight-Loss Wars: Men vs. Women
Find a Doctor
---
Looking for a doctor? Perform a quick search by name or browse by specialty.