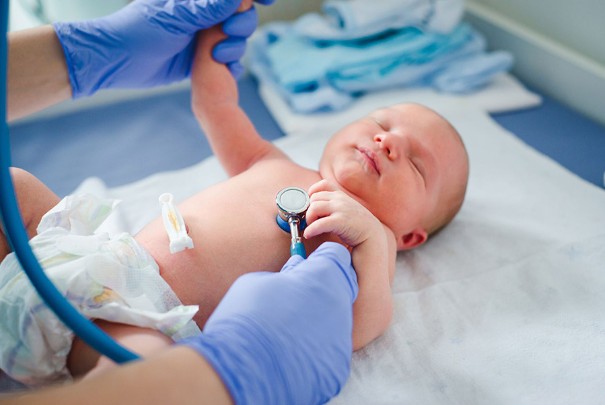 Put to the Test: Understanding Newborn Screenings
You're about to start on the most wonderful test of your life: parenthood. But once your little bundle of joy enters the world, they have some tests of their own. Newborn screenings happen soon after birth and can catch signs of medical conditions and disorders, allowing your baby to get the medical care needed early enough to prevent complications later in life.
Hearing Tests
There are two different ways to test a baby's hearing. The first type of testing is automated auditory brainstem response (AABR), and it's conducted by placing headphones on your baby that will produce some clicking noises. Electrodes placed on your baby's head will monitor the hearing nerves for changes. The second type is otoacoustic emissions (OAE), and it's conducted by placing a sensor inside your baby's ear. Some noises will play, and the sensor will detect echoes inside the ear canal. If the results show that your child has signs of less-than-average hearing, a doctor will refer your family to a pediatric audiologist.
Blood Tests
About 24 hours after birth, a healthcare professional will prick your baby's heel and take a blood sample to check for several conditions, including amino acid disorders, hemoglobin disorders, and endocrine disorders. Each state chooses how many conditions to check for, with Texas choosing 55 different types. "It's important to keep in mind that these tests aren't used for diagnosing disorders, but for finding potential signs of the disorders that would lead to further testing for a definitive diagnosis," says Neal Spears, MD, pediatrician at St. Joseph Health Pediatrics South College Station.
Pulse Oximetry Test
Your baby will undergo a pulse oximetry test around 24 hours after birth. A healthcare professional will place a sensor on the baby's skin to check how much oxygen is in their blood. Low levels of oxygen in the blood could be a sign of a congenital heart problem, such as critical congenital heart disease (CCHD). If your baby has low levels of oxygen in their blood, they will undergo further testing for different heart conditions.
If you're expecting, the trusted staff at St. Joseph Health can help you through every phase of pregnancy. You can learn more about our facilities and services on a tour of our Labor and Delivery Center, at one of our childbirth education classes, or by scheduling an appointment with an OB/GYN. If you have any questions regarding your child's health, visit one of our pediatricians.
MedlinePlus | Newborn Screening
MedlinePlus | Newborn screening tests
NIH | How is newborn screening done?
Baby's First Test | Texas
Baby's First Test | Newborn Screening 101
Baby's First Test | Screening Outcomes
Healthy Children | Purpose of Newborn Hearing Screening
Find a Doctor
---
Looking for a doctor? Perform a quick search by name or browse by specialty.