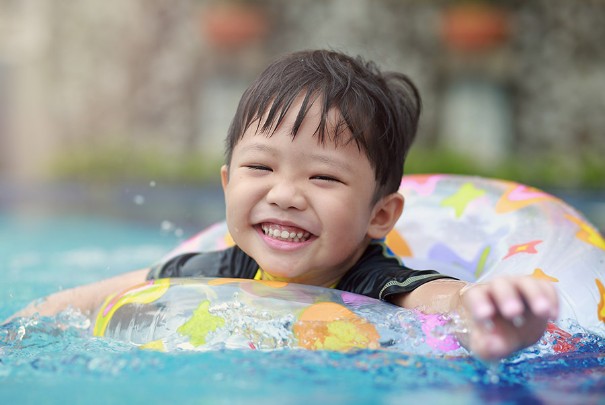 What Every Parent Should Know About Dry Drowning
You may have heard recent news stories about the dangers of "dry drowning" for children. Though medical professionals typically do not use the term, the public uses "dry drowning" to describe a range of near-drowning scenarios that can happen after a child leaves the water. Here's what you should know about this condition to protect your child during and after a swim.
What is dry drowning?
"Dry drowning" refers to any near-drowning or unusual drowning scenario where water is inhaled and causes spasms in the airways. When a child is swimming, it's common for him or her to inhale water. In rare instances, this inhaled water can provoke a spasm of the airways and vocal cords. These spasms can cause proteins and fluids to build up in the lungs and impair breathing. This process progresses over time, with some children not showing any symptoms until 12 to 24 hours after swimming.
What are the signs of dry drowning?
If your child has recently inhaled a significant amount of water in the bath or pool, watch for any of these signs:
Coughing
Difficulty breathing
Vomiting
Headaches
Sudden decrease in energy levels
Chest pain
Irritability
Fever
After a long day of swimming, a tired and fussy child may not arouse suspicion. However, these behavioral changes could be the result of increased agitation due to impaired breathing quality. If your child displays concerning symptoms, go to the nearest St. Joseph Health emergency room.
How is it treated?
Neal Spears, MD, pediatrician at St. Joseph Health Pediatrics South College Station, says, "Though the condition isn't initially life-threatening, seeking immediate medical attention will help your child get the care he or she needs." Depending on the child's condition, your care team may use an oxygen mask, breathing tube, or ventilator. Other treatment may include antibiotics if a secondary infection occurs.
Can you prevent dry drowning?
Teaching your child water safety practices is the best way to prevent water-related injuries. Help your child learn how to swim as early as possible and discourage things like rough play, diving in shallow water, and swimming without a lifeguard.
Locate your nearest St. Joseph Health emergency room before an emergency occurs. Each facility in our network of emergency rooms throughout the Brazos Valley follows the same exemplary standards and treatment protocols from St. Joseph Health's Emergency & Trauma Center, the highest-rated trauma center in a nine-county area.
Sources:
ABC News | What to know about 'dry drowning' after 4-year-old's incident
American Osteopathic Association | Dry and Secondary Drowning: The Signs Every Parent
Needs to Know
Find a Doctor
---
Looking for a doctor? Perform a quick search by name or browse by specialty.