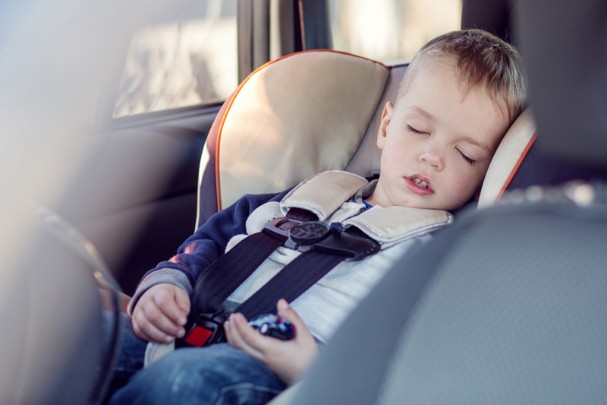 What is Heat Stroke?
Heat stroke, also known as Hyperthermia, is the leading cause of non-crash, vehicle-related deaths for children. It occurs when the body isn't able to cool itself quickly enough, and the body temperature rises to dangerous levels.
Young children, whose bodies can overheat 3-5 times faster than adults, can suffer serious brain injury or death after just minutes of sitting in a locked car, according to kidsandcars.org.
The good news is that heat stroke is entirely preventable. Heat Stroke Prevention Day, July 31, is a national effort to raise awareness and educate parents and caregivers about ways to prevent children from unknowingly being left alone in a hot vehicle.
Prevent Heat Stroke through Safe Kids ACT
Everyone can help protect kids from heat stroke by remembering Safe Kids ACT, according to safekids.org:
A: Avoid heat stroke-related injury and death by never leaving your child alone in a car, not even for a minute. And, make sure to keep your car locked when you're not in it, so kids don't get in on their own.
C: Create reminders by putting something in the back of your car next to your child such as a briefcase, a purse or a cell phone that is needed at your final destination. This is especially important if you're not following your normal routine.
T: Take action. If you see a child alone in a car, call 911. Emergency personnel want you to call and are trained to respond to these situations. One call could save a life.
The Facts about Heat Stroke
"A car can heat up 19 degrees in 10 minutes, and cracking a window doesn't help," said Fawn Preuss, Manager of St. Joseph Healthy Communities.
Even when the temperature outside is as low as 80 degrees, the temperature inside a vehicle can heat to as high as 123 degrees in an hour. While the atmosphere and windows of a car are transparent to the sun's shortwave radiation, darker objects inside the car like a dashboard, steering wheel or seat can be heated by that energy, according to noheatstroke.org.
In a hot car, a child's symptoms of heat stroke can escalate from flushed, dry skin and vomiting to seizures, organ failure, and death.
Education
"One of the best things parents can do is become educated to prevent these tragedies from taking place," said Preuss. "Healthy Communities offers CPR and first aid classes each month that covers the dangers, warning signs and ways to avoid heat-related injuries and illnesses."
You can view available classes online at /classes-and-events. To register and pay for classes, call 979-731-1231.
Sources
Find a Doctor
---
Looking for a doctor? Perform a quick search by name or browse by specialty.