Create Your Own No-Bake Protein Balls
Looking for a recipe that takes minutes to make and is full of feel-good ingredients? Look no further; we've got you covered! These no-bake protein balls are the perfect tasty treat to pack some protein into your day, especially after your favorite workout. You can also pair these protein balls with a cup of yogurt before exercising. Let's get to making protein balls!
Make Your Own Protein-Packed Treat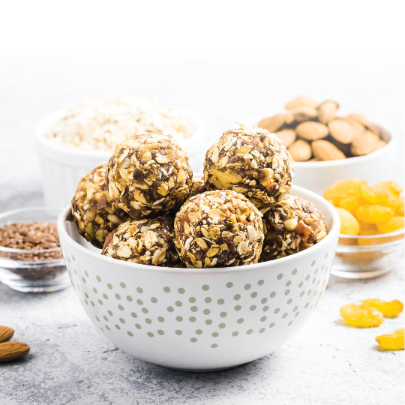 Recipe: Protein Balls
Ingredients:
1 cup old-fashioned oats
2/3 cup toasted, shredded, unsweetened coconut
1/2 cup creamy peanut butter
1/2 cup ground flaxseed
1/2 cup semisweet chocolate chips (or vegan chocolate chips)
1/3 cup honey
1 tablespoon chia seeds (optional)
1 teaspoon vanilla extract

Instructions:
Stir everything together. Combine all ingredients by stirring in a large mixing bowl.
Chill. Cover the mixing bowl, and place in the refrigerator to chill for 1-2 hours or until the mixture is cool.
Shape. Roll the ingredients into 1-inch balls.
Serve. Enjoy immediately, refrigerate in a sealed container for up to one week, or freeze for up to three months.
Possible Variations:
Make energy bars. Press the mixture into an 8×8-inch baking pan lined with parchment paper, chill, and then slice into energy bars.
Use a different nut or seed butter. Use almond butter, cashew butter, sunflower seed butter, or any other nut/seed butter in place of peanut butter.
Omit the coconut. If you're not a big fan of coconut, omit the shredded ingredient and add an extra shake of oats instead.
Add spices. If you would like to give these protein balls some extra flavor, feel free to add in a few pinches of ground cinnamon or pumpkin pie spice.

Want to share your no-bake protein balls with us? Post a pic on social media, and don't forget to tag us!

Looking for more snacks and meals to delight your taste buds? Check out our entire library of healthy recipes!
Save this recipe for later!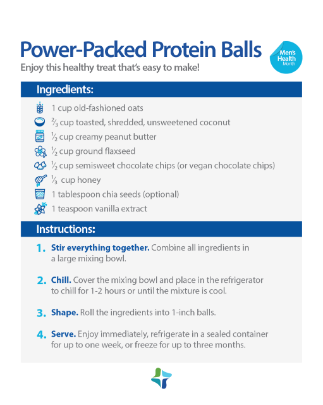 Find a Doctor
---
Looking for a doctor? Perform a quick search by name or browse by specialty.