What Separates Face Masks from Face Shields?
Because the situation surrounding COVID-19 is constantly evolving, some information may not be up to date. Stay informed by following information from your local officials and by visiting the CDC website.
If you've been out in public, you've probably seen a lot of people wearing cloth face masks, but on the news, you've likely seen doctors wearing clear, plastic face shields over their surgical face masks . While there isn't enough evidence to currently say whether one is more effective than the other, we do know more about cloth face coverings and their ability to stop the spread of COVID-19. Check out some considerations for both.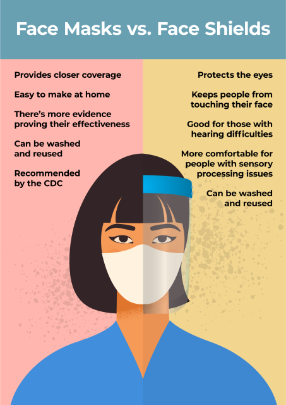 Find a Doctor
---
Looking for a doctor? Perform a quick search by name or browse by specialty.