An innovative procedure for enlarged prostate
The UroLift® System is a procedure that efficiently treats enlarged prostate (BPH).  This minimally invasive outpatient procedure offers significant relief without the need for medications. 
BPH, or benign prostatic hyperplasia, occurs when the prostate becomes enlarged due to its continuous growth throughout a man's life. The enlarged prostate presses in on the urethra, and the wall of the bladder thickens, which can cause a variety of symptoms, including: 
Difficulty urinating 
Painful urination 
Frequent urination  
Slow urination
Blood in the urine 
Incontinence
The UroLift® System is a set of permanent implants that reduce symptoms of BPH without the need for cutting, heating, or invasive procedures. Unlike other procedures, the UroLift® System does not cause new or lasting sexual dysfunction. Patients can return home on the same day and typically do not require a catheter. They often see a resolution of BPH symptoms within two to four weeks after the procedure. 
Meet our physician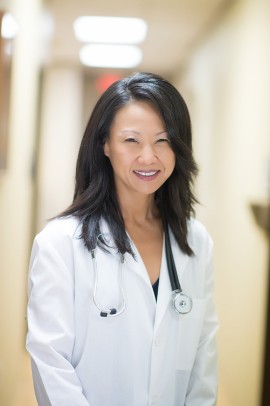 Dr. Kathy Ravanbakhsh, DO, FACOS
Raised in Chicago, Dr. Kathy Ravanbakhsh, FACOS, finds it rewarding to see patients improve and heal despite the tough and vulnerable times she knows many patients experience. Her high level of training and expertise with the UroLift® System has earned her the designation of UroLift® Center of Excellence, meaning she's able to provide the highest standards for patient safety and quality of care.
What benefits does UroLift provide?
UroLift® System frequently asked questions
If you and your doctor decide that the UroLift® System treatment is right for you, your doctor will provide you with more detailed information relating to the treatment. In general, the UroLift System is a minimally invasive treatment that entails minimal downtime. Your doctor will use the UroLift Delivery Device to deploy permanent implants to relieve obstruction caused by the enlarged prostate that is pressing on your urethra. The procedure, which usually takes less than an hour, may be performed under local or general anesthesia, and you may be given medication to feel comfortable during the treatment. This typically helps minimize discomfort during the procedure, though everyone's definition of pain and discomfort varies greatly. Typically, no catheter or overnight stay is required post-treatment.
After the treatment, patients typically go home the same day without a catheter. There is minimal downtime post-treatment, and many patients experience symptom relief in as early as two weeks. Patients may experience some urinary discomfort during the recovery period. Most common side effects are mild to moderate and include pain or burning with urination, blood in the urine, pelvic pain, urgent need to urinate, and/or the inability to control the urge. Most symptoms resolve within 2-4 weeks after the procedure.
Clinical studies have shown the UroLift® System treatment does not cause new, sustained instances of erectile or ejaculatory dysfunction. The same cannot always be said of other BPH therapies such as TURP, laser, and even medication.
Find a Doctor
---
Looking for a doctor? Perform a quick search by name or browse by specialty.