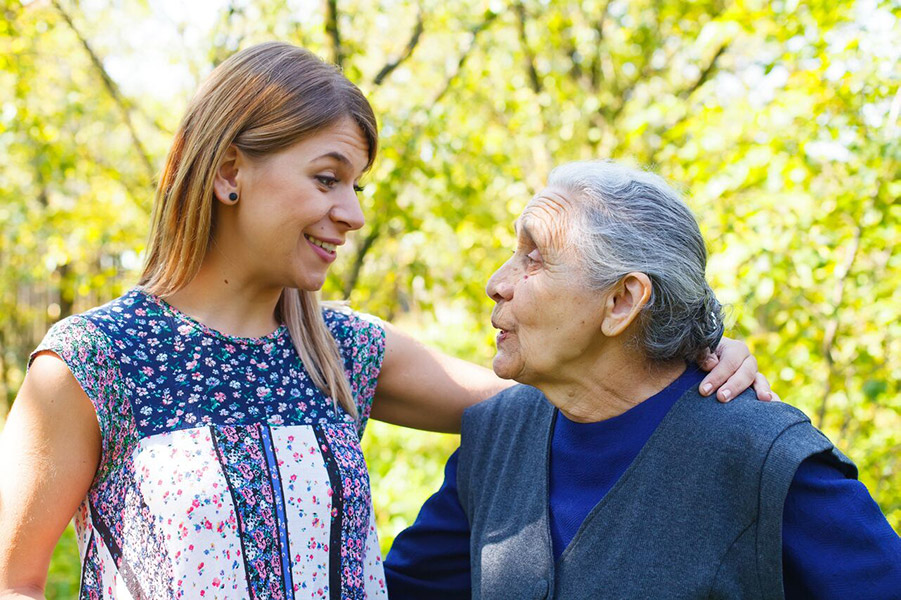 Caring For a Loved One With Alzheimer's Disease
If your parent or loved one develops Alzheimer's disease, you may find yourself taking on the duties of a caregiver. Caring for someone with Alzheimer's takes flexibility and patience. As your loved one's ability to manage daily tasks declines, your role is to help them maintain dignity and a sense of independence as they become more dependent on you and others. Consider these practical tips to reduce frustrations and improve your wellbeing.
7 Keys for Caregivers
1. Establish a familiar routine.
2. Encourage involvement in daily life.
3. Help your loved one remain as independent as possible.
4. Remain patient and calm.
5. Consider if pain or discomfort is a cause for agitation.
6. Don't argue or try to convince logically.
7. Accept behaviors as part of the disease, and don't take them personally.
Taking Care of Yourself
As a caregiver, you may find that you're doing so much for others you neglect to take care of yourself. Dr. Leena Kodali, Medical Director for our MatureWell Lifestyle Center, says, "It's important to remember to make yourself a priority, even when times are hectic or emotionally draining." To prevent caregiver depression, check in and make sure you're doing the following:
Seeing your doctor. After driving to and from the hospital or doctor's office for your loved one, taking care of your own health might be the last thing on your mind. Visit the doctor at least one a year and whenever you get sick to limit the physical impact of caregiving on your wellbeing.
Eating well and exercising regularly. It's easier to grab fast food and rest only when you get the chance, but a good night's sleep, healthy eating patterns, and an active lifestyle are vital to keep stress from overtaking your day-to-day life. On long days, plan healthy lunches and snacks you can take with you to healthcare providers' offices, and find ways to work in exercise, even if it's just 10 minutes at a time.

Managing your stress level. Stress can cause physical symptoms and make you more prone to illness. Don't hesitate to discuss your stress levels with a physician or counselor as needed. Recognize when you need a break, and don't be afraid to ask for help. People with Alzheimer's disease change over time, and so does the level of care they need. Accept these changes as they come, and consult community resources and care options to make these transitions easier. Join a support group to connect with other caregivers who understand what you're going through.

Overcoming negativity. Be aware of personal preoccupations that get in the way of your own self-care. Negative self-talk and impossible self-expectations can be stumbling blocks to success. Determine what is getting in your way, and you'll be able to begin changing behavior and choosing positivity one step at a time.
Find a Doctor
---
Looking for a doctor? Perform a quick search by name or browse by specialty.